TD Auto Loan Protection
Drive away protected
With 12 months of complimentary TD Auto Loan Protection coverage, this is a great time to get the vehicle you want with less worry. Ask your dealer about this valuable coverage and feel protected when you finance your new or used personal vehicle with a loan from TD Auto Finance.
Some vehicles may not be eligible for this coverage. In the event that a recipient of TD Auto Loan Protection purchases separate loan protection coverage, benefits under this policy will be impacted.
How it works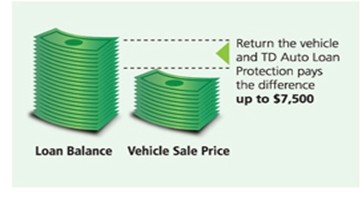 Should you (primary loan holder) experience any of the covered circumstances, simply contact the insurance administrator to begin the claim process.Your loan payments must be up to date and you must have made at least two (2) of the scheduled monthly (or equivalent) payments toward your TD Auto Finance loan in order to qualify to submit a claim.
If you qualify because of a covered event during the first 12 months of ownership, TD Auto Loan Protection may pay up to $7,500 of the remaining balance after you return the vehicle and the proceeds of sale are applied to your balance, less the costs of any required repairs.
If there is still a remaining balance after the net sale proceeds and insurance benefit are applied to your loan, you would only be responsible for paying the remaining amount left owing on your loan with your own funds.
For more details on how this coverage works, please consult the Insurance Certificate you received in the mail.
To learn more, visit www.tdauotloanprotection.com